Once in while technological advances come along that is a giant leap in every possible way for both the doctor and patient. The introduction of lasers into the field of dentistry is one such improvement. The lasers allow most procedures to be performed by being less invasive, essentially painless, faster and bloodless in most cases.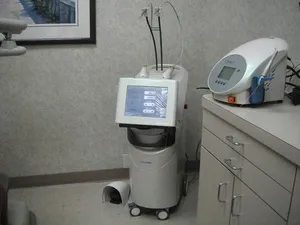 DIAGNOdent laser
The DIAGNOdent laser is a revolutionary and exceptional way of detecting decay. This technology utilizes a laser light to precisely identify even the smallest speck of decay present allowing us to intervene and minimize the removal of tooth structure to correct the situation.
Diode Laser
This laser provides a tremendous advantage for many of our cosmetic dentistry cases. It can precisely reshape the gum tissue to achieve the perfect contours required to show off your smile at its best. Often it can be used with no anesthesia at all or just a minimum amount if the area is sensitive at all.
The diode laser is also an important aid in soft tissue management for patients with deep pockets found during our periodontal screenings. The laser has the ability to kill bacteria in periodontal pockets and rid those pockets of infected tissue quickly and with good long term predictability. More and more research is coming out with the significant benefits of dental laser therapy.
Erbium Laser
Small and medium conservative fillings can be prepared with this laser quickly and usually without the need for anesthesia. You will feel a slight popping sensation and hear a popping sound while the light energy of the laser does its work but it will not hurt. Most patients are amazed at how quickly the teeth can be prepared for fillings using this laser and are most pleased about walking out with the mouth feeling numb for hours afterwards.
CO2 Laser
As a surgical instrument, this laser makes extremely accurate, bloodless incisions. The healing is greatly enhanced which speeds up the recovery for the patient. There is no better approach for a biopsy which needs to be precise and have minimal or no post operative problems.
This laser also works miracles on cold sores or aphthous ulcers in taking away the pain and shortening the healing time significantly. It is also great for sensitive teeth which are simple and very effective.
The laser technology is only embraced by about 7% of practicing dentists but the rewards of us and for you, our patients, cannot be measured. You will be amazed if you are a candidate for this exciting technology!